Leigh based Jacaranda Florist offers daily deliveries to Leigh, Pennington, Lowton, Golborne, Hindley Green, Glazebury, Culcheth, Croft, Risley, Gorse Covert, Birchwood, Locking Stumps, Atherton, Astley, Tyldesley, Mosley Common, Boothstown and nearby areas for a small delivery charge (see our Delivery Page).  Place your order either by calling us 01942 606666 or order anytime on the online page.  This is a secure page by Direct2Florist but all orders on this site will be made and delivered by us.  Alternatively either telephone, email, facebook message us.  We are open till 7pm for your orders.
If you require flowers for a funeral please either order on the online page or call us and we can help you over the telephone or arrange a home appointment at a convenient time.  Since we sold our shop 18 months ago we feel many customers prefer to do this in the comfort of their own home and take their time choosing the flowers.  Remember we are much cheaper than using a local funeral director who will add on at least 25% to the flowers for just arranging.  We always use fresh flowers in all our work.
Jacaranda will be at the Pennington Park Christmas Market this Saturday 14th December from 11 – 4 selling all our christmas wreaths, grave pots and logs.  Come along and support this fantastic event supporting local businesses selling handcrafted gifts.  Father Christmas will also be there in his grotto for the children.
Jacaranda Christmas Hand Tied Bouquet from £25.00 + Delivery
Let us choose the seasons freshest blooms and foliage and arrange in a red gift box with matching wrapping.  This is one of our most popular designs to send at Christmastime.
SEE OUR CHRISTMAS PAGE FOR LOTS MORE DESIGNS
Jacaranda Christmas Bouquet from £20.00 upwards + Delivery
Let us choose the flowers and foliage and present them in a christmas cellophane wrap with matching ribbon bow.  This bouquet will need to be unwrapped and placed in a vase on receipt.  A perfect add on gift to send at Christmas.
This one is £30.00
Add on a box of Lily O'Briens  Chocolates to your flowers for just £8.00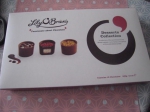 UNFORTUNATELY DUE TO WEATHER AND WIND THE PENNINGTON MARKET HAS BEEN CANCELLED TODAY BUT IF YOU WANTED A WREATH  OR POT WE WILL GLADLY DELIVER FREE OF CHARGE.  CALL US TO ARRANGE.
Our Christmas Wreaths….. decorated medium £10 and large £13   Holly £6.00 all can be delivered locally in Leigh or other areas for delivery charge.  Pennington Delivery is FREE.  See our facebook page for lots more wreaths all made in fresh spruce foliage and decorated in any style and colour to order.
Deck the Halls…..£39.50 includes Delivery (even Xmas Eve)
A beautiful glass vase filled with lush limes, vibrant reds, and crisp white flowers with shiny pine cones and christmas foliage.  A truly wonderful gift at Christmas.  This item can be ordered on our online page also.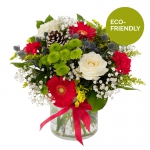 Blanket of Snow…..£39.50 includes delivery (even Xmas Eve)
Winter whites and limes with lush green foliage all arranged as a hand tied bouquet in water.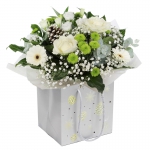 Lots more designs to order direct on the ONLINE Page
Christmas Wishes…..£34.50  includes delivery
A christmas pot filled with an arrangement of foliage, red carnations, roses and lime green kermit chrysanthemums and foliage.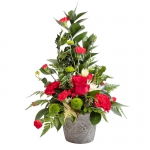 Silent Night……£34.50 includes delivery 
A round posy arrangement with a centre candle of red carnations, chrysanthemum, spruce foliage and holly all arranged in a container.  A perfect table centrepiece.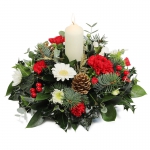 Goodwill Basket…..£34.50 includes delivery
A basket filled to the brim with wonderful christmassy flowers and foliage.  Why not send this to someone special at Christmas.  Chocolates can be added for just £8.00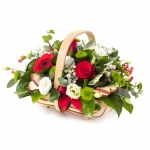 As well as all our christmassy designs we will still be making our usual floral bouquets for any occasion.  Heres just a few to tempt you…..
Stunning Hand Tied with Chocolates…..£37.50
A selection of roses, lilies, carnations, chrysanthemum, alstromeria and foliage all arranged in a gift box in water with a box of Chocolates.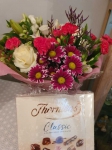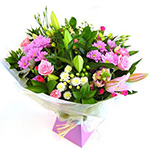 Stunning Handtied £29.50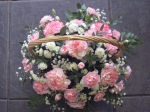 Pretty Basket £23.00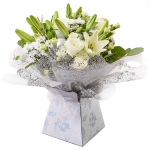 Ava £35.00 upwards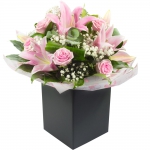 Sylvie £35.00
Julie is at the end of the telephone line to help and advise you on any aspect of your order so please do not hesitate to call us.  Even if you have missed us for the day send us a message on our FACEBOOK Page or email us we try our best to answer even after 7.00 pm