Leigh based Jacaranda Florist offers daily deliveries to Leigh, Pennington, Lowton, Golborne, Hindley Green, Culcheth, Croft, Risley, Gorse Covert, Birchwood, Locking Stumps, Atherton, Astley, Tyldesley, Mosley Common, Boothstown and nearby areas for a small delivery charge (see our Delivery Page).  Place your order either by calling us 01942 606666 or order anytime on the online page.  This is a secure page by Direct2Florist but all orders on this site will be made and delivered by us.  Alternatively either telephone, email, facebook message us.  We are open till 7pm for your orders.
WE WILL STILL BE TAKING ORDERS BEFORE 10AM ON SATURDAY.
WE WILL BE CLOSED FROM SATURDAY 20TH JULY AND RE OPEN ON TUESDAY 23 JULY.  ALL OUR FACEBOOK MESSAGES AND EMAIL ENQUIRIES WILL BE ANSWERED SO PLEASE PLACE YOUR ORDER THIS WAY FOR ANY FLOWER DELIVERIES FROM TUESDAY ONWARDS.
If you require flowers for-a funeral please call us if you would like Julie to come to see you at your home at a convenient time – we find that since selling our business premises many customers prefer to do this rather than choosing on our website.  Julie is here to help and advise you on choosing the correct tribute for your loved one so please do not hesitate to telephone us – we never use old flowers in our work everything is made specially for you and we are much cheaper than using the funeral director as they add on at least 30% for just arranging the flowers.
Jacaranda Summer Bouquet…..£30.00 includes Leigh Delivery
A mixed selection of summer seasonal flowers and foliage all arranged in a gift wrap bouquet.  Flowers shown are subject to availability when ordering and may be subject to change.
HunkyDory…….£29.50
A gift bag filled with bright summery flowers and foliage in water.  Will include freesia, roses and carnations. Note gift bag is florist own availablility.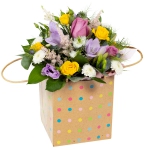 Connect with us on Facebook and Instagram – all our messages are answered even if we are closed!
Calling from afar ask us to send us a photo of your flowers – we are the only florist offering this service.
Colour Pop ……..£30.00 
Want to send a nice vibrant hand tied then choose Colour Pop Design – filled with bright yellows, cerises and greens and foliage all arranged as a hand tied bouquet in a gift box.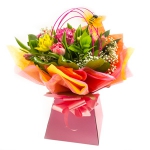 Jacaranda Pink & White Hand Tied Bouquet from £25.00 upwards + delivery
A pale pink box filled with pink lilies, pink carnations, chrysanthemums, alstromeria and foliage.
See our hand tied page for lots more designs!
Large Hat Box……£40.00
A large hat box arrangement filled with bright cerise and pinks and foliage.  When the flowers have faded you have a beautiful hat box to keep.  24 hours notice is required for this arrangement.
Garden Breeze……£29.50
A gift bag filled with pink roses, carnations, white alstromeria and a touch of yellow wrapped with foliage.  This design comes in water.  Flowers subject to seasonal availability and may differ from photo.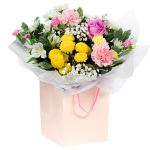 White & Green Bouquet…..£30.00 includes Leigh Delivery
A beautiful selection of crisp white lilies, roses, carnations and green kermit chrysanths and foliage all arranged in a cellophane gift wrap.  Flowers subject to seasonal availability.
Lots more designs are on our individual pages and our online page!
Stunning Handtied…….£29.50 
One of our most popular designs – a mixed selection of pinks, greens and white flowers and foliage all arranged in water in a gift box.