Leigh based Jacaranda Florist offers daily deliveries to Leigh, Pennington, Lowton, Golborne, Hindley Green, Glazebury, Culcheth, Croft, Risley, Gorse Covert, Birchwood, Locking Stumps, Atherton, Astley, Tyldesley, Mosley Common, Boothstown and nearby areas for a small delivery charge (see our Delivery Page).  Place your order either by calling us 01942 606666 or order anytime on the online page.  This is a secure page by Direct2Florist but all orders on this site will be made and delivered by us.  Alternatively either telephone, email, facebook message us.  We are open till 7pm for your orders.
One of our reviews from last week.  See them all on our Direct2Florist Page.
| | |
| --- | --- |
| Flowers are absolutely beautiful, the freshest flowers I have ever seen. Excellent service and value for money !! Would defiantly use again. Thank you!! My mum is well chuffed. | Thu 13 Feb 2020 |
Jacaranda Hand Tied Bouquets from £25.00  £30.00  £35.00 £40.00 upwards 
Here are just a few of our recent designs – they can be made in any combination of flowers and colours and are all placed in water in a matching gift box with wrapping.  Always a popular design to send.
As we now work from home since selling our shop premises in 2017 Collection of Flowers can be arranged from our Pennington Address – please call us to arrange.
Gift Bag of Flowers…..£24.00 includes Leigh Delivery
An assortment of beautiful fresh seasonal flowers and foliage presented as a hand tied in wrapping and placed in water in a matching gift bag.  One of our popular designs to send.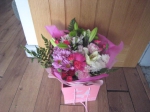 Ava…..£30.00  or £35.00 
A hand tied bouquet of white lilies and white seasonal flowers and foliage all arranged in water in a gift box.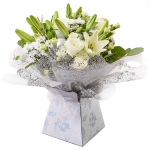 This item can also be ordered on our online page
Stunning Hand Tied Bouquet & Chocolates…..£35.50
A mixed bouquet of seasonal flowers and foliage and a box of either Thorntons or Lily 'Briens Chocolates delivered.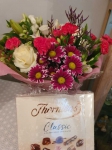 This item can be ordered on our online page
Add on a helium balloon for just £3.99 to your flower order…..Here's just a few
Perfect Match…..£30.00 includes Leigh Delivery (other areas a small charge)
6 stunning red Naomi Roses surrounded by white gypsy and foliage.  This arrangement comes in water in a matching gift box with wrapping.
  This item can be ordered on our Online Page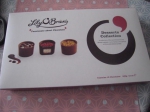 Add on a box of Lily O'Briens Chocolates to your order for just £8.00
Simply Pink Hand Tied Bouquet…..£34.00
A collection of bright and pastel pink seasonal flowers and foilage all arranged in water in a matching pink gift box.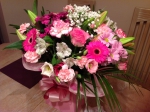 Roses and Lilies……£36.00
A beautiful arrangement of pink lilies and roses surrounded by lush green foliage and palm leaves.  This hand tied bouquet is presented in water with matching gift box and wrapping.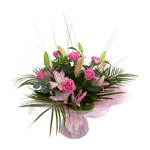 Sweet Talker……£39.50
A red gift box filled with pinks, reds, greens and white seasonal flowers with one red rose, surrounded by fatsia leaves.  This design comes in water.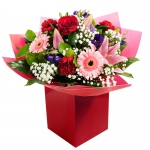 Jacaranda Florist Choice Bouquets from £20.00  £25.00  £30.00 upwards + delivery
Let us choose a combination of flowers and foliage and present in a cellophane wrap with matching bow.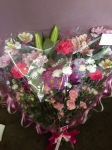 This one is £30.00
Pretty Pink Basket…..£23.00
A wicker basket filled with pale pink spray carnations, gypsophelia and foliage.  Other colours can be made to order.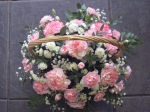 WE ARE OPEN UNTIL 7PM FOR ALL YOUR ORDERS/ENQUIRIES BUT YOU CAN ALWAYS SEND US A FACEBOOK MESSAGE OR AN EMAIL……sales@jacaranda-flowers.com  WE TRY TO ANSWER THESE AFTER 7PM IF YOU HAVE MISSED US FOR THE DAY.