Leigh based Jacaranda Florist offers daily deliveries to Leigh, Pennington, Lowton, Golborne, Hindley Green, Glazebury, Culcheth, Croft, Risley, Gorse Covert, Birchwood, Locking Stumps, Atherton, Astley, Tyldesley, Mosley Common, Boothstown and nearby areas for a small delivery charge (see our Delivery Page).  Place your order either by calling us 01942 606666 or order anytime on the online page.  This is a secure page by Direct2Florist but all orders on this site will be made and delivered by us.  Alternatively either telephone, email, facebook message us.  We are open till 7pm for your orders.
For those of you who are not aware we sold our business premises on Warrington Road  back in 2018 but have continued to run the florist from our home.  We are happy for you to collect your flowers by prior arrangement (as we are often in and out delivering).
If you require flowers for-a funeral please call us if you would like Julie to come to see you at your home at a convenient time – we find that since selling our business premises many customers prefer to do this rather than choosing on our website.  Julie is here to help and advise you on choosing the correct tribute for your loved one so please do not hesitate to telephone us – we never use old flowers in our work everything is made specially for you and we are much cheaper than using the funeral director as they add on at least 25 or 30% for just arranging the flowers.
WE ARE CLOSED FOR 5 DAYS FROM MONDAY 25TH TO FRIDAY 29TH  – OPEN ON 30TH NOVEMBER BUT ONLY UNTIL 12 AS WE WILL BE AT THE WATERSIDE CHRISTMAS MARKET SELLING ALL OUR WONDERFUL CHRISTMASSY DISPLAYS.
PLEASE SEND US A MESSAGE ON FACEBOOK OR AN EMAIL FOR ANY ORDERS FOR SATURDAY ONWARDS.
Jacaranda Hand Tied Bouquets…..From £25.00 upwards + Delivery
Our hand tied bouquets are always a popular choice as a gift to send.  They are made from fresh seasonal flowers and surrounded by lush green foliage and arranged in water and placed in a matching gift box with wrapping. The recipient just needs to top up the flowers with fresh water when required.  The arrangement can be left just as it is or taken out of the wrapping and placed in a vase. Can be made in any combination of flowers.
Just a few of our recent ones…..
Lots more hand tied designs on our hand tied page.
Six Stolen Kisses…..£34.00
A hand tied bouquet of 6 luxury red roses, surrounded by gypsophelia and lush green foliage.  This bouquet is made as a hand tied bouquet in water and placed in a black gift bag with wrapping.  A perfect gift to say I Love You!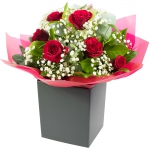 Can be ordered on our online page.
Why not add a box of Lily O'Briens Chocolates to your flower order for just £8.00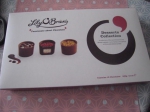 As Christmas is fast approaching November is a busy time for us preparing all our fresh decorated door wreaths, grave pots and christmas log arrangements which we will be showcasing at the Christmas Markets. The first one is at the Waterside Pub in Leigh on 30 November at 2pm and the other two at Pennington Park on the 1st and 8th December starting at 11.00 am.  Any orders can be placed in advance or bought on the day.  Deliveries are available over £15.00 spend.
Here are a few examples from previous years….. each design is handcrafted and very unique no two are quite the same!
See our Christmas Page for more designs  
Gift Wrapped Bouquets……From £18.00 upwards + Delivery
We can offer you a cellophane gift wrapped bouquet of seasonal fresh flowers and foliage with matching ribbon bow. This bouquet can be made in any combination of flowers and colours to your choice.  Here are just a few of our recent ones….
CONNECT WITH US ON OUR FACEBOOK OR INSTAGRAM PAGE – NEVER MISS A DELIVERY AGAIN  SEND US A MESSAGE WE WILL ALWAYS TRY TO ANSWER THE SAME DAY.
Gift Bag of Flowers…..£24.00
Let us arrange a hand tied bouquet of mixed seasonal flowers and foliage and arrange in water in a matching gift bag with wrapping.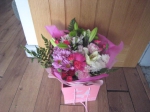 Open until 7pm most days for all your orders.
Fresh Morning…..£32.50
A glass vase filled with beautiful bright blooms and foliage – just ready to be placed in the home this November.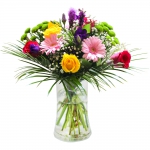 Fresh Start…..£35.00    £40.00   £48.00
Crisp white oriental lilies surrounded by lush green foliage and finished off with large fatsia leaves all arranged as a handtied bouquet in water with matching wrapping in a cream gift box.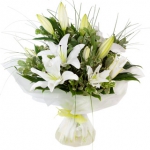 Just a few of our Christmas Designs ready to order now for Christmas Delivery – see them on our online page.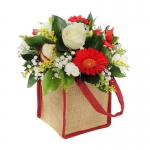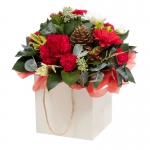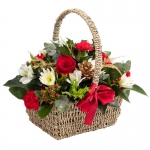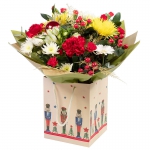 Call us today to order your fresh flower designs – we have been trading as a florist for over 17 years in Leigh serving the freshest of designs to customers far and wide.  We can arrange to send flowers abroad using Direct2Florist which uses a real florist not a factory.
Just a few of our recent funeral tributes…..
Take a tour around our website for more inspiration and designs to send this November.
Call us today 01942 606666 or order on the ONLINE PAGE and pay direct with your card payment.