Leigh based Jacaranda Florist offers daily deliveries to Leigh, Pennington, Lowton, Golborne, Hindley Green, Culcheth, Croft, Risley, Gorse Covert, Birchwood, Locking Stumps, Atherton, Astley, Tyldesley, Mosley Common, Boothstown and nearby areas for a small delivery charge (see our Delivery Page).  Place your order either by calling us 01942 606666 or order anytime on the online page.  This is a secure page by Direct2Florist but all orders on this site will be made and delivered by us.  Alternatively either telephone, email, facebook message us.  We are open till 7pm for your orders.
If you require flowers for-a funeral please call us if you would like Julie to come to see you at your home at a convenient time – we find that since selling our business premises many customers prefer to do this rather than choosing on our website.  Julie is here to help and advise you on choosing the correct tribute for your loved one so please do not hesitate to telephone us – we never use old flowers in our work everything is made specially for you and we are much cheaper than using the funeral director as they add on at least 30% for just arranging the flowers.
Jacaranda Hand Tied Bouquet…..£25.00 (standard)   £30.00 (medium)  £40.00 (large)
Let us select the flowers and arrange in a hand tied design which comes in water with a matching gift box and wrapping.  One of our most popular bouquets.  You can select certain colours if you wish.  This one is a typical standard £25.00 design.
Carnation Basket……£23.00 + Delivery
Pale pink carnations with a touch of white and foliage all arranged in a wicker basket.  Can be made in cerise or yellow carnations.
Mixed Vase of seasonal flowers…..£30.00 (standard)  £40.00 (large)
A glass vase filled with mixed seasonal flowers and foliage.  This design comes gift wrapped all ready to display.
Gerbera & Rose Gift Bag…..£30.00
A gift bag filled with pale pink gerbera and cream roses with pale pink single carnations and foliage all arranged as a hand tied bouquet wrapped with matching wrap and placed in water.  Gift bag may vary from photo.
June Bouquet…..£25.00 + Delivery
A beautiful collection of pink, white and cerise flowers includes carnations, germini, gypsy, alstromeria and foliage all arranged in a hand tied bouquet in water.  This design comes in a pale pink box with wrapping.  A very popular bouquet for every occasion.
Funky Hat Box……£33.00 – Free Delivery to Leigh
A medium hat box filled with beautiful cerise and pale pink gerbera with seasonal flowers and foliage.  This design is in oasis in the hat box.  A perfect gift to send to someone.
SEE OUR HAT BOX PAGE FOR MORE DESIGNS TO ORDER.
Connect with us on Facebook and Instagram
Jacaranda Mixed Bouquet…..£22.00 standard  £28.00 medium  £35.00 upwards
A mixed seasonal floral bouquet of pink and white flowers and foliage, gift wrapped in cellophane.  This one is £28.00
Hand Tied Bouquet and a Helium Balloon ……£35.00
A collection of mixed pinks and whites with foliage all arranged in a hand tied bouquet in a matching gift box in water.  A helium balloon for a 50th Birthday was added to this design but balloons for any occasion can be delivered.
Posy Arrangement….£20.00 or £25.00 + delivery
A round arrangement of fresh flowers and foliage placed in oasis and in a container.  This design is suitable for a get well, thank you gift or even for placing on a grave.  Alternative colours can be made.
Roses and Lilies……£35.00 standard  £45.00 medium  £50.00 large
A mixed assortment of lilies and roses with lush green foliage all wrapped with palm leaf foliage and arranged in  a hand tied bouquet in a gift box with wrapping in water.  One of our most popular designs suitable for any occasion.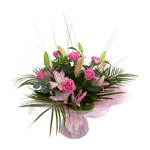 Pretty Basket…..£25.00   £30.00
Long lasting carnations and spider chrysanthemum with gypsy and foliage all arranged in a wicker basket.  An ideal floral gift to send.  The basket can be made in alternative flowers and colours just mention when you order.
We are constantly updating our Online Page with our designs but you can still order any design from our website by telephoning us to make the payment by card.  All cards are accepted except American Express.  Follow us on Instagram and Facebook.
Ava…..£30.00 upwards 
A stunning crisp collection of white lilies and roses and foliage all arranged in a hand tied bouquet in water.  This bouquet comes in a cream box with matching wrapping.  A perfect gift to send. Order online today!