Christmas is one of our favourite times of the year, we love making all those beautiful arrangements, wreaths and bouquets – so why not give us a call and order a beautiful bespoke floral arrangement from us for your Christmas table or maybe as a gift for someone.  Take a look of what we can offer you this Christmas.  Feel free to give us a call and discuss any specific requirements but remember order early to avoid disappointment.  We will be delivering every day including Christmas Eve.  No times can be given on Christmas Eve deliveries.  OPEN TILL 7 SATURDAY AND SUNDAY FOR PHONE ORDERS AND OPEN CHRISTMAS EVE UNTIL 1PM 
WE WILL BE DISPLAYING AND SELLING ALL OUR CHRISTMAS POTS AND WREATHS AT TWO CHRISTMAS MARKETS THIS YEAR.  SATURDAY 30TH NOVEMBER AT THE WATERSIDE PUB IN LEIGH FOR THE CHRISTMAS LIGHTS SWITCH ON AND AGAIN AT PENNINGTON PARK ON SUNDAY 1ST AND SUNDAY 8TH DECEMBER.  PLEASE COME ALONG AND SUPPORT THESE TWO EVENTS.
We will be using our design skills and expertise to bring you beautiful floral designs this Christmas.  Enjoy our collection below and maybe even treat yourself to one of our bouquets.
Merry Christmas Hand Tied (includes a vase)   …..  £45.00 includes Leigh Delivery
Stunning red roses, bright hypericum berries, green shamrock chrysanthemums and foliage all arranged in the hand and placed in a glass vase.  This bouquet will be gift wrapped in Christmas wrapping.  Orders must be placed by 20 December.
All our designs can be delivered to other areas ( see our delivery page for charges)
Christmas Long Table Centrepiece……£40.00 includes Leigh Delivery
A long table centrepiece filled with red and white festive flowers, pine cones and foliage, finished off with 3 red candles.  A perfect gift to send this Christmas or order for your own table.
Add on a box of Lily O'Briens chocolates to your order for just £8.00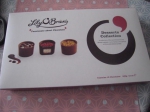 Christmas Round Posy…..£30.00 includes Leigh Delivery
A round posy arrangement filled with bright red carnations, chrysanthemums, green kermit, pine cones and festive foliage.  A perfect gift to send at Christmas.
  Can also be delivered in surrounding areas for a small charge see our delivery page.
Christmas Amaryllis Arrangement…..£40.00 includes Leigh Delivery
Beautiful Red Amaryllis arranged in a container surrounded by christmas foliage.  Please note the amaryllis will be in bud form but will slowly open into spectacular flowers ensuring a long lasting gift.
As Amaryllis is a very popular at this time of year please order this item in advance of delivery.
Winter wonderland……..£38.00 includes Leigh Delivery
Crisp winter whites and vibrant green shamrock all arranged as a hand tied.  This bouquet comes in a gift box with matching wrapping.  No need to unwrap just top up every few days with water.
This is only a small selection of what we can arrange this Christmas so please call us to order anything you have in mind for Christmas.  We make lots of different designs each year specifically to order.
Christmas Cemetery Pots…..£11.00 each (plus postage throughout the UK)
Our Christmas Cemetery Pots are now ready to order and can be delivered throughout the local area or posted throughout the UK and Ireland.  As each pot is hand made it may be slightly different from the recent photos shown on here.  They can be made in either white poinsettias or red poinsettias or we do have a few gold ones. They are filled with flowers, cones, cinnamon sticks and christmassy bits and ribbon.  A perfect arrangement to place on the grave at Christmastime.
click on the images to enlarge
It's Christmastime……£35.00 includes Leigh Delivery
(other areas available see our delivery page)
An arrangement of red carnations, white spider chrysanthemums hypericum berries and christmas pine cones and foliage all arranged in a festive container.
Christmas Decorated Door Wreaths…..from £13.00 upwards – can be delivered locally FREE
Each year we make hundreds of decorated door wreaths which will be on sale at the Christmas Markets in Leigh at the Waterside Pub and also at Pennington Park.  These can now be ordered in advance or bought on the day.  We sell out very fast and each one is individually made.  They are made from fresh foliage and spruce and filled with christmas pine cones, dried fruits, beads, christmasssy sparkly bits and baubles and a beautiful bow. As each piece is unique we will do our best to make to specific colours on request.  These are just a few of last years wreaths we made – the plain holly ones are just £9.00
Christmas Carol…..£32.50
A gift bag filled with lush green foliage, pine cones, red carnations and other seasonal flowers. This bouquet comes in water.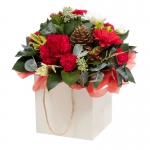 Holiday Cheer……£34.50
A gift bag filled with bright pink roses, carnations, gypsophellia and foliage.  This bouquet comes in water.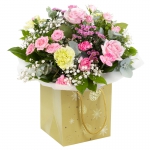 Lots more designs on our Online Page where you can pay by card directly.  Or if you prefer to call us we can take payment over the telephone.
Seasons Greetings…….£30.00 includes Leigh Delivery
A rustic wicker basket filled to the brim with Christmas foliage, red germini, red carnations and roses.  Added to the design are gold pine cones and sparkly bits.  A perfect gift!  Order before 20 December.
White Christmas ……..£40.00 (includes the vase)
Scented white stargazer lilies surrounded by palm leaf foliage all arranged in a glass vase.  This arrangement comes gift wrapped in Christmas wrapping.  We will even add some Christmas picks into the arrangement.
Jacaranda Hand Tied Bouquet……£25.00 upwards + Delivery
Let us choose the best seasonal blooms and arrange in a hand tied design.  Christmassy reds, golds, greens, yellows, cerise, pinks or whites just tell us which you prefer and leave it to us.  The design comes in red box in water with matching wrapping.  One of our most popular designs.
Nutcracker Hat Boxes……from £32.00 (small)  £44.00 (medium)  £55.00 (large)
These are new for Christmas 2019 and can be filled with a beautiful arrangement of christmas flowers and foliage.  Our Hat Box Designs are proven very popular this year so I am sure these will be a winner and the recipient gets to keep the hat box after the flowers have faded.
 SEND US A MESSAGE ON OUR FACEBOOK PAGE
Magical Christmas Wishes Vase….£50.00 includes Delivery
A vase filled with beautiful red roses, cream avalanche roses, green shamrocks, white oriental lilies and aralia leaves.  A wonderful special gift at Christmastime.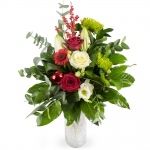 Festive Berry… £32.00 includes Delivery
A vase filled with red roses, hypericum berries, salal leaves and Christmas baubles.  The vase will be gift wrapped in Christmas cellophane.  A perfect gift.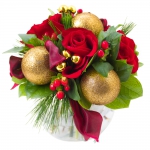 More designs to order on our online page
Seasons Greetings….£29.50 + Delivery
A seasonal selection of reds and greens all arranged in a gift bag with Christmas baubles.  A popular design every year!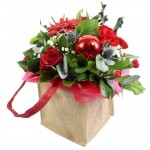 Place your order in advance to ensure guaranteed Christmas delivery.  No times can be given on Christmas Eve and the days leading up to because of the vast amount of deliveries each day.  Email us if you have missed us for the day or leave us a message.  As we are now working from home our telephone line will be answered until 7 in the evening.
WE WISH ALL OUR CUSTOMERS A VERY MERRY CHRISTMAS AND A HAPPY NEW YEAR AND THANKYOU FOR USING US AGAIN.  WE WILL BE CLOSED AFTER THE 24TH DECEMBER  THIS IS DUE TO NO FRESH FLOWERS BEING DELIVERED INTO THE UK AFTER THE 24TH DECEMBER.  FLOWER STOCK IS VERY LIMITED IN JANUARY SO WE WILL BE CLOSED FOR HOLIDAYS.  OUR EMAILS WILL BE ANSWERED.