We have a wide range of Christmas Flowers, Wreaths and Arrangements available to order for delivery before Christmas or on Christmas Eve.  Call us 01942 606666 to order or place your order on our online page.
Jacaranda Choice Xmas Handtied from £27.00
Let us choose the christmas flowers and foliage and arrange in one of our red handtied boxes with matching wrap.  All arranged in water so an ideal gift!
Add on a christmas scented candle for just £7.00
Christmas Posy Arrangements from £25.00
A round posy arrangement in a dish filled with red carnations, white chrysanthemum, pine cones, cinnamon sticks and christmas ribbon and fresh spruce foliage.  All ready to be displayed.  An ideal gift to send at Christmas.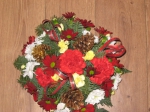 Christmas Poinsettia Plant & Chocolates …..£30.00
A red poinsettia plant and a box of chocolates are an ideal gift to send to someone at Christmastime.  Order early as limited supply!
White Christmas……£35.00
Let Jacaranda Florist select the finest seasonal white flowers and foliage and arrange in a handtied gift box in water.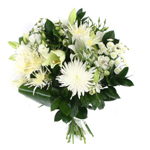 Merry Christmas hand tied bouquet….£35    £40    £50
A red gift box with seasonal reds and a selection of different flowers and foliage all arranged in a festive wrap.  This bouquet is in water ready to be displayed.  One of our popular gifts!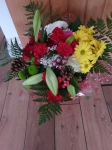 Jacaranda Festive Candle Arrangement…..£40.00
A festive arrangement arranged in a container with a centre candle.  Reds, yellows, holly, pine cones and christmas ribbon bow.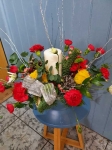 Festive Vase Arrangement….£40.00
A glass vase filled with fresh seasonal christmas flowers and finished off with a christmas bow.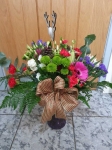 Christmas Charm…..£36.50
A christmas gift wrapped bouquet of yellow, lime, red and white seasonal flowers and foliage.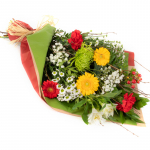 Let It Snow…..£49.50
A large handtied bouquet of crisp winter whites and limes, pine cones with seasonal christmas foliage.  All delivered in a gift box with christmas wrap in water.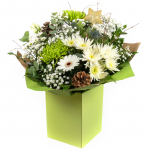 Starlight…..£39.50
An arrangement in a container of reds, greens and whites with a christmas bow.  An ideal christmas gift to send to friends and family.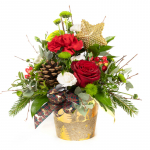 Good Tidings and Chocolates…..£42.00
A basket arrangement of reds, greens and creams with festive foliage.  Includes a box of chocolates.
Fresh Festive Wreaths From £25.00 upwards
We will once again be making our handmade festive wreaths.  All are individually made with baubles, cinnamon sticks, dried fruit slices, pine cones and wooden xmas embellishments.  Each one is finished off with a patterned christmas bow in various colours and styles.  These are a few from last year.  We can also post these out to anyaddress in the UK for £38.00  order on our etsy shop – etsy.co.uk/shop/jacarandafloristgb