Jacaranda have been making our Christmas wreaths, grave pots and grave log arrangements for over 21 years.  Since we sold our shop 5 years ago we have continued to sell these through our website and facebook page and now our Etsy Page – www.Etsy.co.uk/shop/jacarandafloristgb where they can be posted out in the UK.
In the meantime as we all start to plan early for Christmas you may like to pre order your door wreaths etc by calling us on 01942 606666 and we can then add you to our delivery sheet for December as part of our normal flower deliveries.  We will text you when we are in your area delivering.  Payment can be made over the telephone or by bank transfer.
Fresh Natural Wreaths…..£25.00
Our fresh natural wreaths are made with foliage, winter spruce, sprigs of ivy, holly and decorated with or without pine cones, cinnamon sticks, dried fruits and finished off with a christmas bow in a wide range of colours subject to availability.  Place your order early!
Fresh Decorated Door Wreaths from £25.00 (approx 13 inches) including delivery
These are filled with fresh spruce and decorated with christmas pine cones in either red, gold or silver, baubles, xmas picks, cinnamon sticks and dried fruit and other christmassy embellishments.   Finished off with a christmas bow in your choice of colour. (please note these are last years bows)
All are handmade so very individual.  Holly can be added or beads.
The bow colours are available in a wide selection of christmas ribbon
Christmas Grave Pots…..£15.00 including delivery
Every year we make christmas grave pots using christmas poinsettia or roses in either red or white.  Each pot is filled with the flowers, pine cones, cinnamon sticks and other christmassy embellishments.  These are always popular so order well in advance.
Fresh Natural Door Wreath…..£22.00
A fresh foliage wreath of holly, spruce, ivy and eucalyptus embellished with our without natural pine cones and finished off with a thin red ribbon bow all ready to hang on your front door.  These are very limited supply.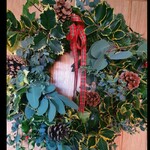 Fresh Eucalyptus Wreath…..£25.00  
A wreath filled with scented fresh eucalyptus and foliage.  This wreath can include dried fruit slices, cinnamon sticks and pine cones and a bow.  All made to individual requirements.  Limited Supply.
Grave Holly Wreaths …….£10.00
Our handmade holly wreaths with pine cones or left plain with either red, gold or tartan bow.  Suitable for placing on a grave at Christmastime.
Christmas Grave Log Arrangements……£12.00 includes delivery in December 
A small log shaped arrangement of fresh christmas foliage with a festive poinsettia, cones, holly and christmas ribbon.  This arrangement is in oasis so will last on a grave at christmastime.
These sell out very quickly so order now!
Luxury Christmas Wreaths…..£28.00 Upwards 
These wreaths are all handmade and filled with christmas embellishments,baubles, pine cones, fruit slices, cinnamon sticks and a christmas bow.  Made from fresh christmas spruce and holly if you wish.
Fresh Flower Christmas Wreaths……
12 inch £40      14 inch £50   16 inch £65    18 inch £80
The sizes of wreaths are 12 inch, 14 inch, 16 inch and 18 inch.
We can make a fresh christmas floral wreath in reds, golds, limes with pine cones and christmas embellishments.  These are suitable for the graveside at Christmas.  Please order early for this item.  The photo is a 18 inch wreath.
BE PREPARED THIS YEAR AND ORDER NOW AS CHRISTMAS IS FAST APPROACHING.  CALL US ON 01942 606666 OR FACEBOOK MESSAGE US.  OUR PHONE LINE IS ANSWERED UNTIL 8PM. MONDAY TO THURSDAY AND UNTIL TEATIME FRIDAY, SATURDAY.
YOU CAN ALSO ORDER ON OUR NEW ETSY SHOP FOR CHRISTMAS WREATHS AND POTS TO BE SENT THROUGHOUT THE UK.
www.Etsy.co.uk/shop/jacarandafloristgb
A few of our designs over the years…..