Want to surprise her with something more original? Go for the luxury hat box collection.  The WOW Factor is guaranteed.  Hat box flowers need no further arranging once they arrive at your door and the hat box itself becomes a memorable keepsake once the flowers have faded.
Treat someone special with our custom made hat box arrangements.  Stays fresh for days because of the floral foam it is composed into.  More original than a normal bouquet of flowers, more passionate than any words……
Order one today we know they are going to be very popular.  They come in small, medium and large.
All the designs can be made in different combinations of colours and flowers – feel free to call us when placing the order to check on the availability of the flowers.  Please try and place your order in advance for the Hat Box Designs so that we can guarantee to get a more exclusive choice of flowers.
Moonlight hat box……   Medium Hat Box £40.00  and Large  Hat Box £50.00
A beautiful collection of pink roses, lissianthus, lilies, carnations and foliage all arranged in oasis in a hat box.  One of our new creations for Mothers Day.  Other colour combinations can be made to order.  Hat box may vary according to stock.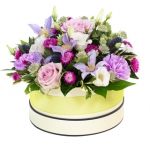 Call us today to order …..01942 606666
Send us a Facebook Message or an email in the evenings if you have missed us – we always reply.
Heart Shaped Hat Box….£50.00
A folding heart shaped hat box filled with luxury roses, lissianthus, gerbera and other seasonal flowers and foliage. A wonderful gift to send for a special occasion and they get to keep the hat box once the flowers have faded!
Scented Hat Box…… Large £50.00
A spectacular hat box filled to the brim with striking pinks, cerises and lilacs with the wonderful scent of the bouvardia and the freesias, surrounded by lush green foliage.  A beautiful floral gift for someone special.
This design can also be made in a small hat box ..£30.00 or a medium hat box….£40.00
Rainforest Hat Box…..£40.00  Medium
A hat box filled with summery seasonal flowers and foliage.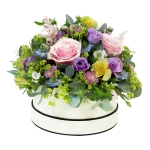 Hat Box……Standard…….£30.00   Medium £38.00    Large…..£50.00
The one displayed is the medium size.  A hat box filled with roses in white and deep pink (alternative colours can be made) with lissanthus, spray carnations and foliage.  Finished off with milano sticks.  A perfect gift to send!
Funky Hat Box…..£40.00 (medium)  Large £50.00
A beautiful arrangement of cerise and pale pink gerbera with seasonal flowers and foliage all arranged in a matching hat box.  Perfect modern floral gift to send someone.
   Add on a box of chocolates to your flowers for just £10.00
We can arrange any flowers and colour combination in a hat box just ask when ordering – proving to be a very popular arrangement already.
Olivia……£40.00
An assortment of whites including roses with blue eryngium and foliage.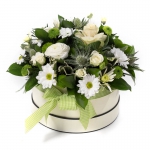 Hat Boxes are constantly changing so the hat box may not be the same as displayed on our website.