Our hand tied flowers are our bestseller. They are presented in a matching gift box in water and gift wrapped. These are ideal flowers for anyone who likes their flowers to be left just as they arrived.  Just top up with water from the middle of the bouquet. To place your order you can order most items on the ONLINE PAGE which is a secure payment page run by Direct2Florist.  All items are made and delivered by Jacaranda or alternatively please click here to contact us 01942 606666 to place an order for any of the items below:
For more Hand Tied Bouquets please continue to our next page by Clicking Here.
Hot Pinks
A seasonal collection of flowers in shades of pink and choice foliage.
Guide price = £35, £40, £45, £50
Scensation
An array of pink roses and stargazer lily combined with eucalyptus and
palm leaves.
Guide price = £45, £50, £60
Please click here to contact us for more information.
Flower Frenzy
A collection of mixed freesia, roses and carnations surrounded by foliage make this a popular choice.
Guide price = £40, £45, £55 48 hours notice sometimes required for this design, Freesia subject to availability
Pure Luxury
An extravagant hand tied of closely bound roses in cream, pink and red. Bold foliage edge the bouquet making it an impressive gift.
Guide price = £60, £70, £80 Not available at Valentines Day!
Add on a box of chocolates for just £10.00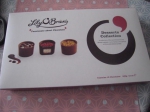 Ashleigh……£33.00 
A seasonal selection of pinks and whites includes lilies and roses with foliage.  This bouquet comes in a matching gift box with wrapping in water.  A very popular design.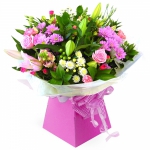 Ava……£35.00 includes Leigh Delivery
A classic hand tied bouquet of pure white lilies and roses with seasonal flowers and foliage all arranged in a cream box with wrapping in water.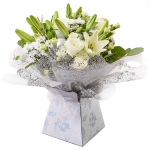 Vibrant Hand Tied Bouquet…..£38.00 includes Delivery
A vibrant bouquet of cerises, yellows and limes which includes gerbera, shamrock and lilies with lush foliage.  Wrapped in cerise wrapping and sat in a cerise box.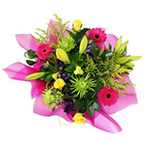 Simply Pink…..£35.00
A stunning selection of cerises and pinks with a touch of white all wrapped with palm leaf and placed in a pale pink gift box with wrapping.  Perfect for the one who loves pinks!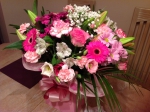 Fresh Start……£38.00
A perfect gift for someone who just loves white lilies.  This bouquet is just crammed with white lilies and lush green foliage all arranged as a hand tied bouquet in a cream box.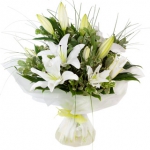 Vibrant Pinks….£45.00
A collection of rich cerise lissianthus, germini, roses, white lissianthus, white spray carnations and lush green foliage all arranged in a glass vase.
This is only a small selection of our popular hand tied bouquets – we can design to your individual requirements – please ask.
See more of our hand tied designs on our Hand Tied Page