Jacaranda's  Hand Tied flowers are one of our best selling designs.  We are always getting good reviews!
They are presented in a matching gift box in water and gift wrapped.  The gift boxes come in an assortment of colours – Baby Pink, Cream, Lilac,  and Cerise. Also available in Red. Silver and Gold at Christmas time.
You can choose your own colour palette of flowers – here are just some of our designs to give you some inspiration.
We also stock chocolates to complement your flowers. Just ask at the time of placing your order.  We are open until 8pm most days for all your telephone order or place your order directly onto our online page.
Please click here to contact us or to place an order for any of the items below.
FREE LEIGH DELIVERY ON ALL ORDERS AT £30 AND ABOVE.
Guide Price From £25    £30    £35    £40   £50 + Delivery
Add on a box of chocolates for just £9.00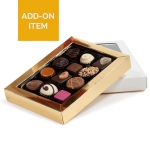 Simplicity
A pure white hand tied design in an array of whites and luxury foliage.  From £25.00 + delivery
Pretty in Pink
A collection of pastel pinks and white seasonal flowers.   From £25.00 + delivery
Lilies & Rose Handtied……£48.00
Beautiful scented white lilies and roses surrounded by lush green foliage all presented in a hand tied gift box with wrapping in water.  Perfect for the one who loves these flowers!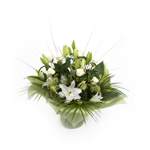 Ashleigh….£33.00
Always a popular choice is this design.  A mixed handtied bouquet of pinks, whites and greens.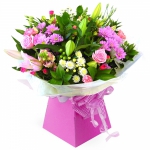 Sending Hugs…..£32.00
A collection of yellows, purples, pinks and greens all arranged in a handtied design in water.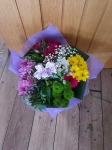 Sunshine Bouquet…..£33.00
Pretty yellows and whites all arranged in a handtied bouquet.  Perfect to mark the start of Spring!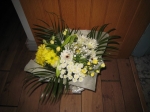 Superior Handtied with chocolates from £55.00
A very large handtied bouquet of mixed pinks and whites with foliage all arranged in a large gift box with matching gift wrap in water.  A box of chocolates will compliment your order.
Jacaranda Superior ……..From £90.00
Brand New for 2021 are these large handtied boxes filled with superior choice seasonal flowers and foliage to include anthuriums, quality roses and lilies to name but a few  all surrounded by lush green foliage.  The display can be taken out and placed in a tall vase or left as it is.
Red Rose Handtied Designs…..on our online page also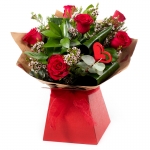 Kissing Booth £36.50  ….. 6 red long stemmed roses with foliage.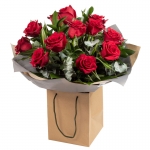 For my Sweetheart…..£60.00  12 luxurious red roses and foliage.
Colour Pop…..£30.00
A pale pink gift box filled with bright seasonal flowers and foliage all arranged in water with wrapping.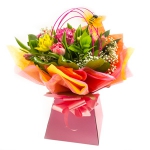 Stunning Hand Tied……£35.00     £45.00
A beautiful collection of pinks and whites including lilies with palm leaf or aralia foliage all arranged in a gift box in water with wrapping.  A very popular design.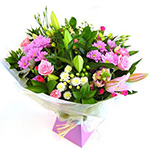 Deluxe Hand Tied…..£36.00
A collection of pink germini, spray carnations, alstromeria, chrysanthemums and lilies wrapped with foliage all arranged in a bright cerise gift box with wrapping in water.  Another of our bestsellers!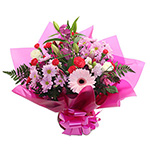 Fresh Handtied……£30.00    can be ordered on our Online Page
A fresh crisp white and green handtied bouquet in a cream box with lush foliage.  Always a popular one!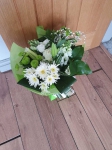 Simply Pink…..£38.00
A stunning handtied bouquet of pink germini, roses, spray carnations, gypsy, alstromeria and other seasonal flowers wrapped with palm leaves.  All arranged in a pink box with matching wrapping.  This bouquet is in water.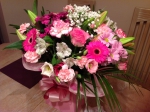 Vibrant
A hand tied of yellows, reds and oranges.   A ray of sunshine for the recipient.  From £25.00 + delivery
Summer Hand Tied……£35.00 includes Leigh Delivery
A collection of summer flowers includes lilies, alstromeria, chyrsanthemums, carnations, germini and luxury foliage.
 Just To Say……£50.00
A dozen pink roses with gypsy and foliage all arranged in a hand tied bouquet in water and matching pink gift box with wrappings.  A beautiful gift for someone special.  24 hours notice required for this item.
Roses are also available in cream, red, orange, yellow, and cerise.  This price may change at Peak Periods.
Seasonal Mixed Hand Tied Bouquet……£25.00 + Delivery
Let us at Jacaranda choose the best flowers of the day for you and arrange in a hand tied bouquet in matching box with wrappings.
These photographs are just a few of our designs all made by Julie of Jacaranda Florist.  
Calling from afar ask us to email you a photo of your order – we are the only florist offering this service in Leigh.
Our phone line is open until 8pm most evenings so never miss a delivery again!  Or you can send us an email which will always be replied to.  Place your order and pay directly on our online page.
Like and share us on Facebook!  Connect with us on Instagram