Want to send the WOW Factor then let us design and deliver for you one of our exclusive and luxury items.
Whichever one you choose to order be assured if you give us at least 48 hours notice it will have the desired effect everytime.  Please note leading up to Valentines Day and Mothers Day as the days get busier we do need plenty of prior notice to ensure we can get your exclusive flowers delivered to us in time.
Natural …..£85.00   £100    £125
For the one who prefers natural colours this one is a winner everytime.  Clean crisp whites and creams with a touch of limes all presented in a large cream gift box with wrapping.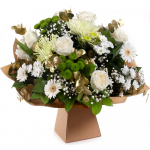 PS I Love You…….£  please call for todays price
12 Luxury Red Roses surrounded by white wax flower or gypsy encased with folded aspidistra leaves or lush green fatsia leaves (depending on stock at the time of ordering)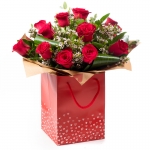 Out of this world……£85.00    £110     £125
Looking for the ultimate gift that is out of this world then look no further.  A fabulous collection of lilies, carnations, roses, alstromeria, anthuriums to name but a few all surrounded by lush green foliage.  Presented as a large handtied bouquet in a gift box with wrapping in water.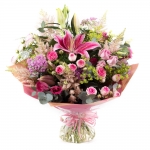 Scented Moonlight…..£65.00   £75.00   £85.00
A large wicker basket filled with creams and greens in a serene colour palette sure to impress.  All arranged and ready to be displayed.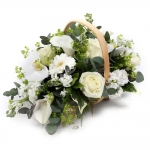 Just Lily……£60.00
For the one who loves lillies….. an arrangement of lillies in either pink (shown) or white surrounded by lush green foliage and wrapped with palm leaves.  This bouquet is a handtied in water with matching wrapping and a gift box.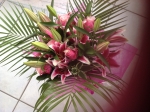 Superior Handtied Bouquets….. from £40.00   £50.00   £70.00
Let us choose the flowers and foliage and arrange in one of our large handtied gift boxed with matching wrapping.  This bouquet comes already in water so is the perfect gift to be placed on display.
Ace of Hearts…..£135.00
Pure luxurious red roses with gypsy and foliage all arranged in a large red handtied gift box with wrapping in water.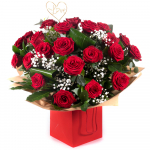 Add to your flowers our Lily O Brien's Chocolates for just £10.00
A scented tin candle for just £7.00
A Reed Defuser gift set for just £14.00
We can deliver gifts of wine and prosecco please call us to discuss further.
Just ask when ordering – call us on 01942 606666 to order