Sympathy and Funeral Flowers are a simple but caring way to express your feelings and pay your respects at this difficult time.
These photographs illustrate just a few of the different styles and colour options we can offer you. We are happy to work with you directly to ensure that we create your own individual piece.
Tied Bouquet of Creams & Greens…….£30.00 
A bouquet made in the hand and tied of seasonal creams and greens wrapped with foliage and gift wrapped.  This bouquet can be placed straight into a vase of water – no need to unwrap.   Other colours are available – just ask!
White lilies and foliage…..£48.00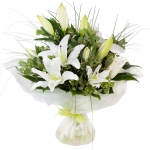 Tied Sheaf of Yellow Calla Lilies …..£45.00   (48 hours notice required)
A tied bouquet of yellow calla lilies and hypericum berry backed with monstera foliage and loops of steelgrass. Cream calla lilies are also available.  Calla lilies are subject to availabilty and are a seasonal flower.
Simply White Hand Tied Bouquet From £28
A selection of white seasonal flowers with foliage in a cream or lime box with matching wrappings in water.
Traditional Mixed Bouquet….From £25.00 + Delivery
A seasonal mixture of fresh flowers and foliage presented in a cellophane wrap and ribbon bow.  This bouquet needs to be unwrapped and placed in a vase of water on receipt.
     Click on the images to enlarge
Posy Arrangement……From £28.00 + Delivery
A selection of lemons and whites arranged in a dish of oasis.  This arrangement just needs spraying with water to keep fresh.
An assortment of other colours are available From £28.00 + Delivery
Sympathy Baskets….From £30.00 + Delivery
Front Facing Flower Arrangements From £35 
White Seasonal Flower Bouquet in cellophane wrap….£35
All our designs can be made in alternative flowers and colours please ask when placing your order.  Some flowers will need to be ordered in advance to ensure availability.
Please call us on 01942 606666 to discuss your own thoughts and ideas and we will do our best to help and advise you.