Valentines Day 14 February is fast approaching and we will be delivering to Leigh, Atherton, Astley, Tyldesley, Golborne, Culcheth, Croft, Pennington, Lowton and surrounding areas (see our Delivery Page), but please place your order as early as possible.  Due to the vast amount of deliveries on this day we cannot specify a certain time as all orders placed are gathered together into routes the night before, therefore making it virtually impossible to give a time slot.  All flowers ordered will be delivered from   9.00 am onwards and we always try to get them delivered as quickly as possible with all our helpers on board.   No flowers go out by courier or by taxis and are all delivered in our own jacaranda van or our own vehicles.  Unlike internet companies we guarantee to give you the best flowers and excellent service with a smile!  We deliver the WOW Factor everytime and have been trading for over 19 years.
WE WILL BE DELIVERING ALL WEEKEND SO PLACE YOUR ORDER NOW TO GUARANTEE DELIVERY.
YOU MUST ORDER IN ADVANCE TO GUARANTEE DELIVERY ON THE DAY AS WE ARE EXPERIENCING HIGH VOLUME OF ORDERS COMING THROUGH AND WE CANNOT OFFER DELIVERY LAST MINUTE.  NO COLLECTIONS THIS YEAR DUE TO THE COVID RESTRICTIONS.
This is a photo of our Avalanche (cream) and Naomi Red Roses.  Long stemmed roses tried and tested for their freshness and superb quality.  We have been using these for the past 19 years.
You can place your order directly on our Online page which takes you to a secure page powered by Direct2Florist but the orders will still be made by Jacaranda and delivered by us.  Alternatively call us 01942 606666 or Facebook message or Email us at sales@jacaranda-flowers.com.  Emails will be answered even when we are closed for the day.  WE ARE OPEN UNTIL 8PM
Jacaranda Valentine Special – £43.00
6 luxury red naomi roses with gypsopellia and fresh lush foliage all arranged in a red hand tied gift box with wrapping and a FREE box of Lily O'Briens Chocolates.  A very popular gift to send each year.  ORDER BY 10TH FEBRUARY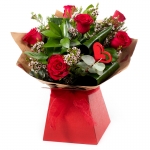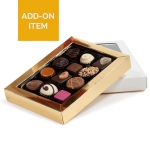 Valentine Luxury……£120.00
Send 24 long stemmed red naomi roses and white gypsophelia with lush green foliage all arranged as either a hand tied bouquet in a gift box or in a cellophane wrap – the choice is yours but order early!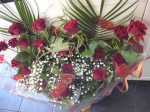 Valentine Rose Bouquet …..£30.00 (6 roses)  £50.00 (12 roses) £60 (15 roses) 
6 or 12 long stemmed red Naomi roses arranged with gypsy and foliage in a valentine cellophane wrap.  This bouquet need to be placed in water with the flower food provided on receipt.
Free Chocolates when you order 24 roses.
Cant decide then give us a call we are here to help you!   Open till 8pm every day!
Stunning Handtied Bouquet and Chocolates….£36.00
A fresh seasonal selection of flowers and foliage with one red rose in the centre all arranged as a hand tied bouquet in a matching box in water with valentine wrapping.  A box of chocolates will be included and FREE DELIVERY TO LEIGH.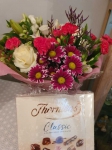 This design can be ordered on our online page.
For My Sweetheart….£49.50 includes Delivery (can be ordered on our Online Page also)
12 long stemmed Red Naomi Roses and either gypsy or waxflower with lush green foliage in between, wrapped with either palm or fatsia leaves and all arranged as a handtied bouquet in a matching gift box in water.  A very popular design to send every year!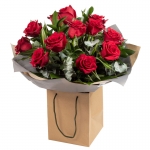 Be sure to order early!  Can also be made with 15 roses £60   or 24 roses £90
Kissing Booth…..£36.50
6 long stemmed Red Naomi Roses with gypsy or statice and hypericum  and surrounded by lush foliage presented in a hand tied bouquet in water in a red box.  We even add on a little Valentine Pick.  Free Leigh Delivery!  We can deliver to other areas for a small delivery charge – see our Delivery Page.
Can be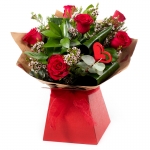 ordered on our Online Page or by telephone.
Making Me Blush……£49.50
12 Red Naomi Roses surrounded by eucalyptus foliage all arranged in a Hat Box in oasis.  After the flowers have faded the Hat Box can be kept as a keepsake.  A very popular choice this year.  Order Early!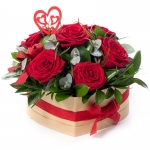 Add on chocolates to any item for just £8.00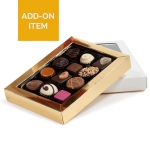 Love Letter….£34.50  ONE OF OUR MOST POPULAR ITEMS SO ORDER EARLY!
6 Red Roses and spray carnations and foliage all arranged in a boxed envelope in oasis.  With a heart pick to finish.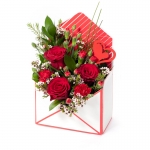 please note the box design and colour may vary.
Spring Kisses…..£36.00
A glass vase filled with 20 stems of mixed tulips and foliage (tulips subject to colour availability).  A perfect gift for someone who likes to be different!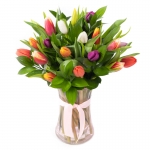 Bag of Love….£29.50 + Delivery
Show them you care this Valentine's Day by sending a little bag of love.  A mixed selection of fresh flowers with a single red rose in the centre.  Arranged in water with gift wrap in a bag. Gift Bag may vary due to stock.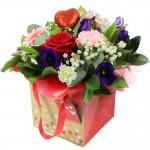 Lilies and Roses……£38.00
A black gift bag filled with pink lilies and pink roses with gypsy and lush green foliage.  Perfect for someone who prefers pink!
Add on chocolates for just £8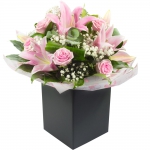 , 
Be My Valentine…….£33.00 + Delivery
Let us choose the flowers and arrange in a glass vase with foliage. This design comes gift wrapped with valentine cellophane.  No red roses are in the design.  A perfect gift this Valentines Day.
A little Treasure……£22.50  includes Leigh Delivery
A single red rose surrounded by gypsy and foliage and placed in a bud vase.  A simple design that says I Love You!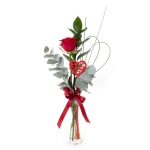 OPEN FROM 8.00 AM UNTIL 8PM FOR YOUR ORDERS BUT SEND US A FACEBOOK MESSAGE OR EMAIL IF YOU HAVE MISSED US.  ALL MESSAGES AND EMAILS WILL BE ANSWERED.  DUE TO THE CURRENT COVID SITUATION WE ARE EXTREMELY BUSY AND IF YOU DO NOT PRE ORDER WE WILL NOT BE ABLE TO OFFER DELIVERIES LAST MINUTE ON THE DAY.
Deep in Love…..£49.50   
A red hat box filled with 6 Red Naomi Roses and lush green foliage.  Want to send the WOW Factor then order this design.  You can even keep the hat box once the flowers have faded.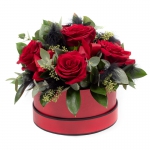 PLEASE NOTE HAT BOX DESIGNS MAY VARY ACCORDING TO AVAILABILITY
 Pucker Up…….£29.50 includes delivery 
Two red roses representing a token of your love to theirs.  A timeless romantic classic.  Arranged in a small glass container.  Order early for this design.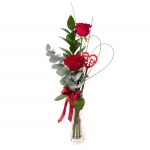 Ashleigh……£29.50(standard) + delivery   (medium)  £35.00   (large) £40.00
If the one you love prefers pinks and whites instead of reds then choose this design.  A wonderful array of bright pinks, white and foliage all arranged in a pink gift box in water.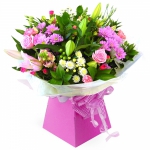 Jacaranda Valentine Hand Tied Bouquet……£25.00, £30.00, £35.00 upwards + Delivery
A mixed bouquet of fresh flowers including reds and foliage all arranged in a hand tied bouquet and placed in water in a red gift box with valentine wrapping.  No Red Roses are in this design.  Spend £30.00 or above and get a red rose in the centre.
One in a Million……£49.50  includes delivery to Leigh
A timeless classic of rich lime green shamrocks and white oriental lilies surrounded by avalanche roses and white seasonal flowers and foliage.  This design is arranged as hand tied in water in a cream gift box.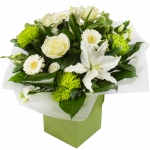 Strawberries & Cream…..£49.50
A hand tied design of pink and cream roses with gypsy and seasonal flowers and foliage.  This design comes in a pink gift box in water with wrapping.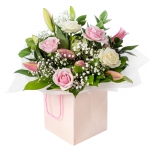 Forever Yours…..£45.00    Please order early for this design.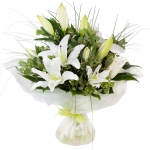 Beautiful white lilies surrounded by lush green foliage and palm leaves.  This design comes in water in a matching gift box with wrapping.  Perfect for someone who loves lilies!  Order Early!
Just a few verses for you…..
Sending Valentine Wishes wrapped with Love and Kisses…..
A special day just for two, with a valentine wish from me to you xx
Today's the day for me to say I love you more in every way.  Happy Valentine's Day!