Based in Leigh we are delivering fresh flowers to Leigh, Atherton, Tyldesley, Astley, Culcheth, Croft, Lowton, Golborne, Pennington and surrounding areas for a small charge.  Place your order by telephone 01942 606666 or on our Online Page.  Choose an item and it will re direct you to the secure Direct2Florist page where the payment will be taken but all flowers will be made and delivered by ourselves.
WE WILL BE CLOSED FROM TUESDAY 17TH MAY FOR ONE WEEK.  RE OPEN ON WEDNESDAY 25TH MAY.  YOU CAN STILL PLACE YOUR ORDERS ONLINE FOR 25TH MAY ONWARDS ON CALL US WHEN WE ARE BACK OPEN.
OUR TELEPHONE ORDER LINE IS OPEN UNTIL 8PM.  OPEN SUNDAY MORNING TILL 12 noon
A few of our reviews…..
| | | |
| --- | --- | --- |
| 5 | Very pleased with the quality of flowers,vibrant colours and so fresh, delivery driver wad so polite and very helpful. | Mon 14 Feb 2022 |
| | | |
| --- | --- | --- |
| 5 | Beautiful flowers delivered to my wonderful step mum on the occasion of her 98th birthday. Thank you so much | Tue 15 Mar 2022 |
| | | |
| --- | --- | --- |
| 5 | Excellent service. Thank you | Thu 03 Mar 2022 |
Ashleigh….£33.00   £40.00   £50.00
For the one who loves a mixed handtied.  A seasonal selection of mixed pinks, whites and greens surrounded by lush green foliage and placed in a pink box in water.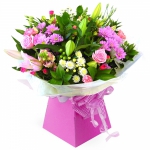 WE ARE ON FACEBOOK SO SEND US A MESSAGE TO ORDER!
Summer Handtied ……£35.00
A collection of pretty pink and white summer flowers surrounded by foliage all presented in a pale pink handtied gift box.
Pretty perfect £36.50
A wicker trug basket filled with pinks, and creams and foliage.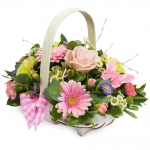 Baby Girl Pot Arrangement…£32.50
A ceramic container filled with beautiful pink flowers and a touch of white with foliage.  All ready to be displayed.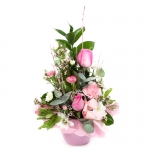 Sunshine…..£35.00
Send a bit of sunshine this April with a bright yellow, green and white handtied bouquet in a cream gift box in water.  Sure to brighten up their day!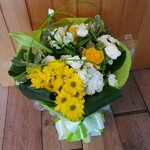 Seasonal Handtied ….£35.00
A pale pink gift box filled with an arrangement of seasonal pinks and whites with foliage all arranged in water with wrapping.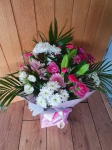 Jacaranda Handtied Bouquets…..£25.00 + Delivery or spend over £30 with delivery free to Leigh
Our handtied bouquets are always a popular choice for any occasion.  Let us select the flowers and arrange in a gift box in water with wrapping.
Hat Boxes…..from £28.00 (small round)   £36.00 (med round)  £45.00 (heart shaped) 
£55.00 (large round)
Our Hat Box Range is always a popular choice as you get to keep the Hat Box once the flowers have faded.  We have a wide choice available and it is constantly changing so cannot guarantee the exact same one everytime.  Our recent ones are a pink heart folded one or the popular round ones.
Heart Shape                     Medium Round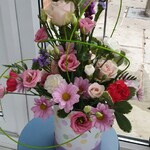 Add on a box of Lily o Brien's chocolates for just £8.00
WE ARE ON FACEBOOK SO YOU CAN MESSAGE US
Only the Best…..£85.00 upwards
When only the best will do for the Wow Factor!  A great selection of seasonal high quality flowers to include long stemmed roses, lilies, green shamrock and whatever we can order specially for this design.  At least 48 hours notice is probably best so we can ensure special flowers for this bouquet.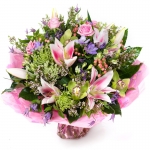 Jacaranda Choice Gift Wrap Bouquet from £25.00 upwards + Delivery
Let us select your flowers and foliage and arrange in a cellophane wrapped bouquet with matching bow.  This bouquet will need to be unwrapped on receipt and placed in a vase.  Suitable for any occasion.
Simply Whites…..£35.00
A handtied of whites seasonal flowers and foliage all presented in a cream gift box with wrapping in water.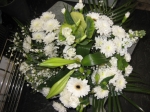 A New Day…..£35.00
An arrangement of yellows and creams presented in a container all ready to display!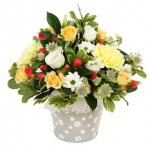 Basket and Chocolates….£42.50
A wicker basked filled with pink carnations, roses, chrysanthemums, germini and foliage.  This design comes with a box of Lily O Briens Chocolates.  A lovely gift to send!  Alternative colours can be made.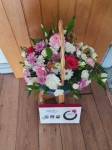 Jacaranda Choice Bouquet & Chocolates….£34.00
Let us select the seasonal flowers and arrange in a cellophane wrapped bouquet finished off with matching ribbon edge and bow.  This bouquet will need to be placed in a vase on receipt.  A box of chocolates is added to the order.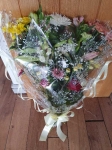 LOTS MORE DESIGNS ON OUR OTHER PAGES AND ONLINE TO ORDER
WE ARE OPEN EVERYDAY FOR DELIVERIES!  OUR PHONE LINE IS ANSWERED UNTIL 8PM OR YOU CAN SEND US A FACEBOOK MESSAGE OR EMAIL.  WE NORMALLY START OUR DELIVERY AT 10.00 AM SO ORDER EARLY FOR SAME DAY.
Just a few designs we have delivered in the past few weeks…..